I was recently sitting at one of my favorite coffee shops drinking a chai tea latte when I overheard the table next to me planning a fundraiser event for a local dog shelter. I was thinking to myself how cool it was that they were getting involved in the community when I suddenly looked to my right and I saw an interview being conducted. That ultimately led me to admiring everyone from afar for all the work they were doing. It made me appreciate that there was a special place like this where people felt comfortable to come to work on their dreams, catch up with a good friend, or enjoy the peaceful environment.
Picture it… you walk into a coffee shop and are immediately immersed in the pleasant mix of aromas, the whistling sound of coffee brewing, and the soft voices of people having engaging conversations. I don't know what it is, but when I step foot in a coffee shop, all of my worries from the outside world seem to disappear, creating a perfect space to think clearly and make good decisions.
I was recently talking to my uncle about this and he made a great point that he loves the concept of coffee shops because you will generally walk out having learned something new. Unlike leaving a store with less money or leaving a bar with fewer brain cells, you will walk out of a coffee shop with more inspiration and motivation to tackle your next project (and okay, like $5 less from your coffee purchase.)
I personally love going to coffee shops to work on anything that needs my full attention. This way I can't get distracted by my usual at-home tendencies such as getting distracted by social media or procrastinating.
In the following, I will dig into a few of my favorite things I like to work on at coffee shops.
Organizing my schedule
The first thing I do when I get to a coffee shop is pull out my planner and run through my schedule.
Did I get everything done today?
What's the rest of my week look like?
What do I have going on tomorrow that I could prepare for today?
This simple check-in seems very basic, but consistently doing this has changed the game for me. It enabled me to structure my week so that it's digestible and easy to track my progress. If you know me at all, you know I live and breathe by my calendar. I will not plan anything unless I have reviewed my planner and ensure I am able to attend while not over-committing myself. This helps me avoid disappointment.
Taking a step back and making sure I am happy with my life
I feel it's so easy to delve into the all of the individual components in life without stepping back and ensuring all of those components are piecing together to create the life I want. I am obsessed with learning about myself and determining what kind of life I want to live. This is the why every so often I do a deeper self-check-in and ask myself more holistic questions to ensure that I am spending my time with activities that are actually fulfilling me.
How do I envision my ideal daily lifestyle?
What do I want to accomplish in this one life I have been given?
Does my calendar reflect the kind of life I want to live?
After that exercise, if I find that my calendar does not reflect the life I want to live, then it's time to PIVOT (you can relate almost anything to Friends, Ha!)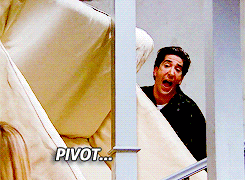 But this truly means cutting out the fluff that fills up my days. This means teaching myself to have more self-discipline and always keeping the bigger picture in mind when making decisions.
Looking at the trajectory of my life is one of my favorite activities to work on at a coffee shop because it steps me out of my everyday reality to get a clear vision of how I am really feeling. We have so much more control in our life than we think and it's fun to dream about the possibilities. 😊
Last, but definitely not least, hobbies and fun
After college, I had all of this spare time I didn't know what to do with it. That is when it hit me that I didn't have many hobbies. Since then, I have picked up activities such as writing, reading, running, personal growth, etc.
I didn't love all of those things at first but I knew I needed to engage in activities that would continue to test my mind. Now I can genuinely say that I fell in love with every single one of those activities and how they have collectively made me better. It just took me trying new things to find out how I liked spending my time.
So when I knew I wanted to start getting better at writing, I started a blog. Concurrently, I started going to the local library to check out popular books to read. These are my favorite activities to indulge in at a coffee shop, but if I'm not working on those things, I work on other projects like budgeting or planning my next vacation. Marcus and I are currently planning a big trip, so we regularly set up time to have coffee shop dates where we drink coffee and lay out all of the details into a binder.
And of course, it's a great place to meet up with your gal pals! I love to have coffee dates with my girls and discuss our dreams and lofty goals together. We are then able to motivate and support each other throughout it all.
What are you waiting for?
As I sit here finishing this blog post, I am surrounded by dreamers, hard workers, and friends reuniting. Marcus is sitting next to me working on his programming skills and developing his website. It continues to remind me that we are all on our own path trying to master our craft but still desire that basic human connection. And coffee shops help us fulfill those needs.
After living in Madison for almost three years, I have found a few cozy and unique shops that remain at the top of my favorites list.
Some of my favorite in the Madison area include:
If you aren't already on the coffee shop bandwagon, I highly recommend you try it out. The coffee shop experience is what you make of it, but I am a firm believer that it will help spark the productivity and inspiration you may be looking for.